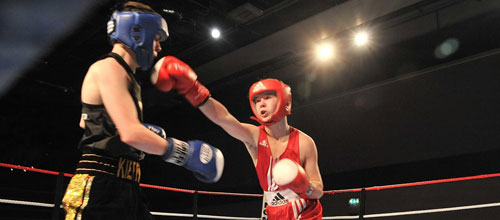 Q: Can anyone attend the boxing centre?
A: Yes, the boxing centre is a community project and we welcome everyone regardless of experience or background.
Q: When are the training sessions?
A: Click here to see our training times.
Q: Do you have a training session for me and my kids to attend?
A: Yes, try our "Lads, Dads & Lasses" training sessions.
Q: Do I need to know how to box before I can come to the centre?
A: No, we cater for all levels of ability, come along and try us out.
Q: Do I need any special equipment or clothing to be able to train?
A: No, any light comfortable clothing like jog pants and a sweatshirt or t-shirt and a pair of trainers will be suitable for training in.
Q: Can I come just to keep in shape?
A: Yes.
Q: I am female, can I train at the club too?
A: yes, we have a lot of females who train with us, we even have dedicated ladies sessions. Click here for details.
Q: I can't see the answer to my question here, is there someone that I can speak to at the centre?
A: Yes, please click here for our contact details, we would love to hear from you.