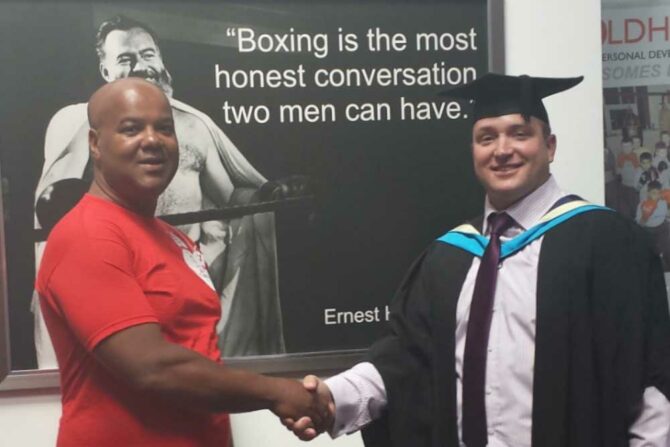 My name is Steven Ferguson. I am a 34 year full time single parent to my 2 children aged 5 and 7.
In August 2009 I had a big change in my circumstances and I became a full time parent.
I was previously a self employed landscape gardener. Due to the circumstances I couldn't carry on with this work because I needed to give my children the attention they needed. Suddenly I had time on my hands during the day and a change in finances. I had a very low income of only £55 p/w and I now had to claim housing and council tax benefits. I decided I would like a change in career and wanted to go into youth and community work.
I could use my time during the day to achieve this. I have always had an interest in keeping fit and healthy and also in boxing and I had previously worked out at OBPDC and met the coaches, Eric, Charlie and Glyn. I knew that courses were regularly held there and I decided to go in and have a chat and get some advice. After a conversation with Eric and some good advice I signed up to do a level 1 in exercise studies and Eric also said he would do my CRB check and let me do some voluntary coaching. I started volunteering for around 10 hours per week. I found this a great experience and learned a lot about working with a wide range of people of different ages and backgrounds which helped me to reflect on my own situation and put it into perspective. It also motivated me.
Even though I was going to the centre to coach people in fitness and boxing I also benefited a lot from meeting lots of different people and speaking to them and sharing views and thoughts on different things. I completed the NLDCF funded Exercise Studies course and then went on to do an NLDCF Introduction into computing course.
I then completed a NLDCF back to work course that covered areas like, goals, barriers, actions, CV writing, interview skills and more. I then completed a NLDCF personal development course which covered areas in team leadership, working with others and communicating effectively. I have also completed an Introduction to NLDCF Youth Work course and a Reflexology course at the centre, Awareness of Child Abuse and Neglect course and a Sports Leadership level 2 course.
I was accepted to do a NVQ level 2 in youth and community work and successful in completion of this has seen me progress to a degree course in Health and Social Studies which I subsequently graduated with a 2.1 last week.. I also continue to coach for Oldham Boxing, and am a keen volunteers as well as having secured sessional employment.
Since my change in circumstances and I am happy, my children are happy, and I am felling very positive with the path I have chosen and what I have achieved. A lot of it is thanks to meeting Eric and the guys from OBPDC. I've benefited so much and more importantly these life style changes will change my children's lives for the better.
Steven Ferguson (Self Written)