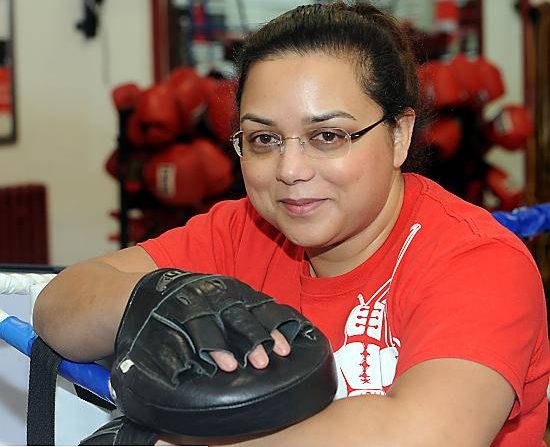 SOME women are so remarkable they defy all the norms. 
One such is Shelley Rahman, as happy, contented and rounded a person as I have ever had the privilege to meet – yet her life is a mass of collisions as she balances family and business.
For the whole of our time together, Shelley smiled her way through an endless stream of questions from an ageing writer in awe at her restless energy. Make no mistake, this is a woman who doesn't do things by halves, but neither does she give everything away.
I left with the impression there was much more beneath the surface of this mother-of-three, who not only runs her own business — alongside husband Mohammed Shalim — but insists on running the family home in Chadderton, spending time with her children and helping out at the Oldham Boxing and Personal Development Centre.
That's right, our Shelley is a level two boxing coach. Eric Noi, the inspiration behind the centre, reckons Shelley is the country's only female boxing coach of Bangladeshi origin. "Yet another first for Oldham," he beams.
Shelley herself remains underwhelmed: "I might be; Eric thinks so, but there are other female boxing coaches out there. There were seven women on the course when I took my level one, though I was the only one of Asian origin," she conceded.
That's the thing about Shelley. She doesn't think she is doing anything remotely remarkable.
Around seven years ago she donated her left kidney to her younger brother. It barely rated a mention — in fact it was an afterthought only because she wants to raise awareness among the Asian community about the importance of organ donation.
One thing she did baulk at was accepting an offer to stand for the council. "I didn't go through with it for lots of reasons, but I have helped lots of candidates and councillors' campaigns," she mentioned, again as an aside.
Shelley spends a lot of her spare time promoting healthy living through voluntary community work among the town's ethnic minority groups – not always Asian. For her, helping others — be it in the boxing arena, at her work or in life in general, she simply gets on with it.
The youthful-looking 40 year old is not a driven woman, not in any sense. She is cool, sophisticated and clearly in control of her life.
Born in Bangladesh, she came to England with her mother at 18 months old, joining her father who had moved here from Hull.
"My father, Shafiqur Rahman, moved here because jobs were scarce in Hull and there was no sense of community, no halal grocers. He eventually got a job in Shaw, at Osram, and stayed there for years. He was very well known and very popular," she said with pride.
Her mother also worked sewing at a leather goods factory in St Mary's, and the work ethic has certainly imbued itself into Shelley's psyche.
She married at 17, meeting her husband in Bangladesh — not an arranged marriage, she confirms – and soon had a family.
During one of many regular trips with her husband and family to Bangladesh she and Shalim were introduced to a group of local producers of handwoven fabric.
"We spotted an opportunity to produce quality garments back in the UK from this material, but it didn't work out."
But while the Bangladesh end of the business folded, while she and Shalim were at an exhibition they were approached with an offer of a sewing contract.
Quite soon they were not only sewing but also cutting the pieces — all for the furniture trade, huge High Street end users. Today, their company UK Fibre Fillings Ltd in Chadderton is a thriving business.
Shelley's interest in boxing arose when she considered herself to be overweight and unfit: "I looked at myself in the mirror and thought 'That's not me!'. I was massive, but no one had told me."
Shelley went to the gym and started running, but Jonathan Cuminsky, who ran classes at Chadderton Sports Centre, persuaded his charge to try boxing training. Soon Shelley was skipping, lifting weights and hitting the pads. She was hooked.
She lost weight, felt fit and when youngest son Rayyan took an interest in the sport the pair walked into Eric Noi's gym in Derker — the former Co-op building —and got stuck in.
Soon she was part of the Tuesday women's class and, encouraged by Eric attending the men's evenings three nights a week. Two years later, with Rayyan still training too, Shelley took her first tentative steps into boxing training.
She passed her level one course with flying colours and was soon helping out down at Derker. The level two course followed, a more intensive, physically demanding, four-week affair.
Shelley soon found herself at amateur boxing events, acting as a second to young lads. "Yes, I'm there at ringside, helping out with the towels and the buckets and the stools. Eric gets really passionate and fired up, but I like to think I bring a measure of calm to the corner."
Shelley is now working with Eric and his team at the plush new premises in Victoria House, Queen Street, in Oldham town centre.
The relocation from Derker means Oldham has a centre of excellence that has few rivals in the region – and Shelley has a role helping to deliver a social service Oldham can be hugely proud of. But she plays it down.
"My days are rushing by," she says. "I am determined that I will also look after the family home, be a typical mum to Shaakir, Saarah and Rayyan; I want my daughter to become a good cook and I want to be there for her as she prepares for adulthood.
"And there is the business too. People rely on Shalim and me and it isn't easy to keep so many people employed.
"And as for the boxing, well. I would really like to get involved with some young people and coach them, but taking level three is a huge commitment…"
Her voice trails off, but not, I suspect, her self-belief.
Shelley is a compelling woman, one in which worlds collide. She is British but devotedly proud of her Bangladesh heritage and culture in so many ways, And her serenity and sense of proportion are lessons for us all.