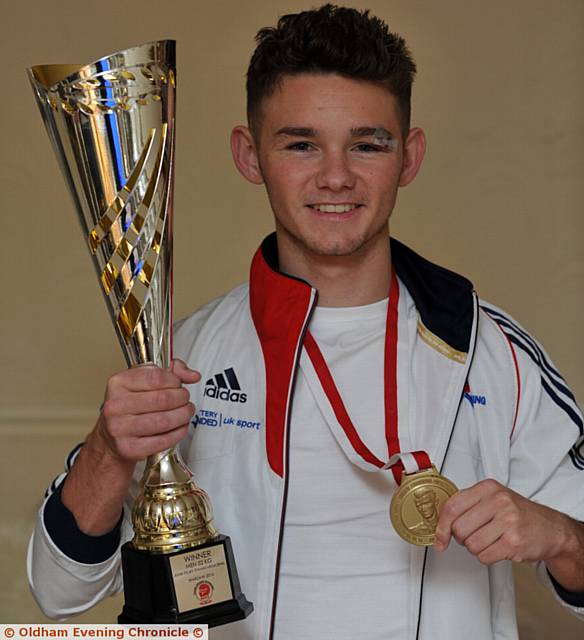 OLDHAM'S Will Cawley returned from Warsaw, Poland, with a dream gold medal after making his Great Britain team debut at the prestigious Feliks Stamm memorial tournament.
Holts-based Cawley (19) – already a member of Team GB'S 'Podium Potential' squad – beat Israeli tough guy David Alavereian in a thrilling 52kg category final after shaking off a badly cut eye in the second round.
Cawley told the Chronicle: "I knew I was in for a really hard fight in the final as the Israeli lad had knocked out quite a lot of his previous opponents.
"I think he's only lost one fight in his whole career.

'WOBBLED'
"I won the first round comfortably enough, then I wobbled him in the second before I caught a head-butt and I was quite badly cut just above my left eye.
"In the third and final round I just out-boxed him, keeping it nice and tidy.
"I'm so proud of myself. People were buzzing around ringside after the fight.
"To come away with a gold medal following your GB debut is something really special."
Cawley, who returned to the UK with three stitches in his eye wound, was guided superbly in Poland by GB coaching trio Lee Pullen, Gary Hale and Dave Hucknall.
However, there were words of praise for his older brother Martin Cawley (26), who has taken on local training duties following a recent split with Oldham Boxing and Personal Development Centre head coach Eric Noi.
Will added: "Martin has really helped me with sparring and training in the gym.
"He keeps me sharp and I'd like to thank him for helping me out."

CONVINCING
Cawley, who hopes to earn a place on the full GB Potential squad in the new year, was a convincing winner in his semi-final clash against Yahya Saleh Al-Rafiq.
The Oldham prospect won all three rounds to gain a comfortable points decision against the man from Qatar.
Injured eye permitting, Cawley's next assignment, on Thursday, December 8 at the English Institute of Sport venue in Sheffield, is a GB Boxing Championship final clash against Glasgow hard man Reece McFadden.